Fruit Platz
Batter

125    mL   butter or margerine
125    mL   sugar
2      eggs
5      mL   vanilla
500    mL   flour
10     mL   baking powder

180    mL   milk

1       L   fruit (sour cherries, plums, or 
            apricots are recommended)

The batter should be thick but not really 
pourable.

Topping (Rübel)


250   mL    flour
250   mL    sugar
125   mL    butter or margerine

 - Spread the batter on a baking sheet, ~1 cm thick
 - lay the fruit on the batter
 - top with the rübel
 - bake at 175 C for 30 minutes.  You might want 
   to broil the top a bit (carefully).

 - I recommend sour cherries, apricots or plums for
   the filling.  Apple would also work well.  Try 
   any fruit you like! Apparently the South American
   Mennonites use bananas or other tropical fruit.

 - Using canned apricots will not give you a good 
   result. I freeze a bunch in July and ration them 
   all winter. Home canned, fresh or frozen sour 
   cherries work really well.


Raw fruit on the base.
Rübel on the fruit.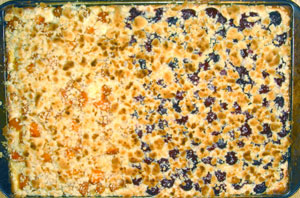 Ready to munch!